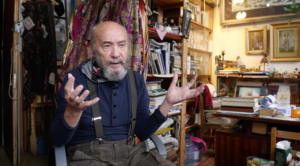 Shavkat Abdusalamov (artist, art director, Stalker)
Abdusalamov met Tarkovsky at VGIK, where he was studying art direction. Abdusalamov worked on the first version of Stalker, and maintains his art practice in Moscow.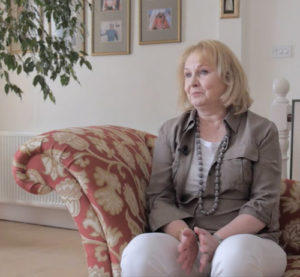 Layla Alexander-Garrett (interpreter, translator, author)
Alexander-Garrett acted as Tarkovsky's interpreter during the making of The Sacrifice, and is the author of two books: Andrei Tarkovsky: The Collector of Dreams and A Photographic Chronicle of the Making of The Sacrifice.
This interview with Lanterna Magicka took place in London on July 10th 2015.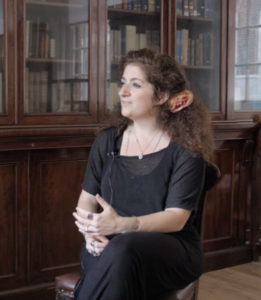 Chiara Ambrosio (filmmaker)
London-based filmmaker Ambrosio discusses the significance of dreams in Tarkovsky's cinema.
This interview took place in London on 8th July 2015.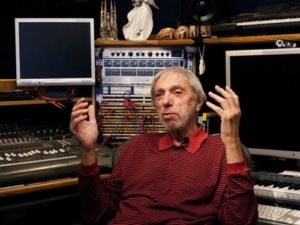 Eduard Artemiev (composer)
Tarkovsky's most renowned musical collaborator, Artemiev wrote the music for Solaris, Mirror and Stalker.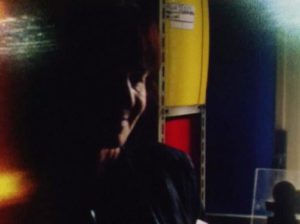 Donatella Baglivo (filmmaker)
Baglivo made three films about Tarkovsky in Italy: Tarkovsky: A Poet in the Cinema, Film is a Mosaic of Time and Andrei Tarkovsky in Nostalgia.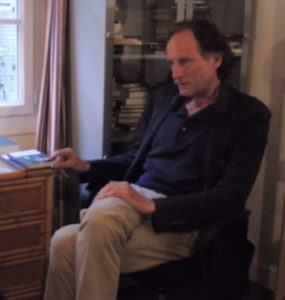 Charles de Brantes (head of Friends of Tarkovsky Foundation)
de Brantes discusses the work of the Tarkovsky Foundation in promoting Tarkovsky's work.
The interview with Lanterna Magicka took place in Paris on 4th June 2014.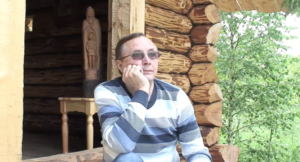 Nikolai Burlyaev (actor)
Burlyaev starred as the eponymous child soldier in Tarkovsky's debut feature film, Ivan's Childhood, and also played the part of Boriska, the young bell-caster in Andrei Rublev. Burlyaev discusses his work with Tarkovsky and how starring in his first two features affected his career and working practice.
Please click here for full transcription of the interviews: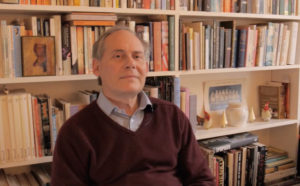 Mark Le Fanu (writer, critic)
Le Fanu wrote the first book on Tarkovsky in English, The Cinema of Andrei Tarkovsky (1987).
This interview with Lanterna Magicka took place on 30th November 2014.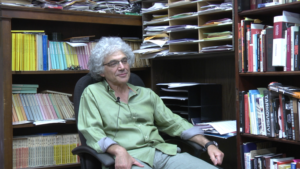 Vladimir Golstein (academic)
Golstein is an associate professor of Slavic Studies at Brown University. He has written on Tarkovsky in the context of the Cold War.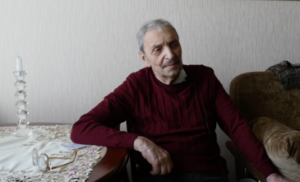 Alexander Gordon (brother-in-law, filmmaker, author)
Gordon studied at VGIK with Andreï Tarkovsky, and co-directed the student films The Killers and There Will be No Leave Today. Tarkovsky appeared in a rare acting role in Gordon's feature film Sergei Lazo (1968).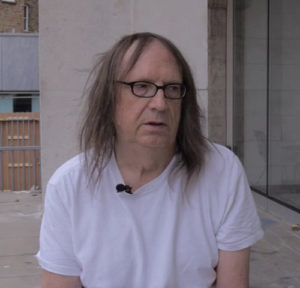 David Gothard (family friend)
Former director of the Riverside Studios in Hammersmith, West London, David also helped organize Tarkovsky's defection to the west in 1984.
This interview with Lanterna Magicka took place on 12th July 2015.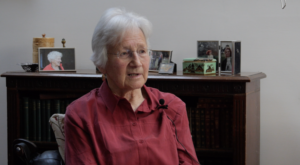 Kitty Hunter-Blair (translator, author)
Hunter-Blair translated Tarkovsky's book on film theory and aesthetics, Sculpting in Time, and his diaries, published in English as Time Within Time. Kitty also translated the kino roman screenplay of Andrei Rublev, and is also the author of Poetry and Film: Artistic Kinship Between Arsenii and Andrei Tarkovsky.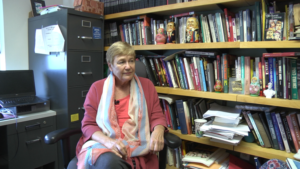 Vida T. Johnson (academic, author)
Johnson co-authored (with Graham Petrie) The Films of Andreï Tarkovsky: A Visual Fugue (1994), one of the earliest book-length studies of Tarkovsky in English. She is the director of the Russian programme at Tufts University.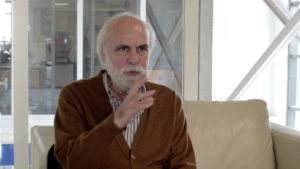 Giuseppe Lanci (cinematographer) 
Lanci lit Tarkovsky's first film shot in the west, Nostalgia, made in Italy in 1983. Asked what was the most difficult shot to get Giuseppe joked, 'They were all difficult! I was working for Tarkovsky!'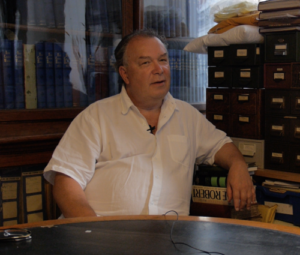 Lech Majewski (filmmaker)
Majewski, director of films inspired by Bruegel, Bosch and Dante, discusses the influence of painting on Tarkovsky's work.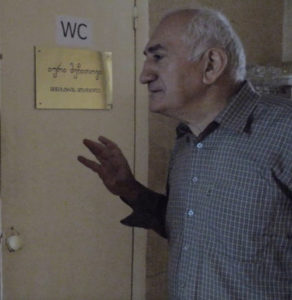 Yuri Mechitov (photographer)
Mechitov knew Tarkovsky and Parajanov, and photographed their last meeting in Tbilisi in 1982.
The interview with Lanterna Magicka took place in Tbilisi on 6th October 2014.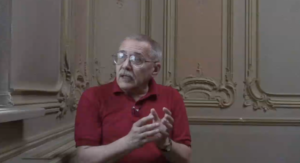 Dmitry Salynsky (critic)
Film critic Salynsky discusses Tarkovsky's films in relation to major philosophical and psychological trends.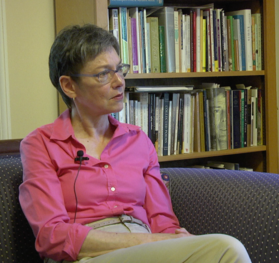 Stephanie Sandler (academic)
Sandler lectures at Harvard University, and has published on Tarkovsky, memory and poetry.
Olga Surkova (personal assistant, author)
Surkova first met Tarkovsky on the set of Andrei Rublev in 1965, when she was still a student. She had planned to study medicine, but seeing Tarkovsky's debut feature Ivan's Childhood changed her plans: she decided to study cinema, and went on to work as Tarkovsky's personal assistant for many years. She accompanied Tarkovsky and Zanussi on the 1983 American trip, and is also the uncredited co-author of Sculpting in Time.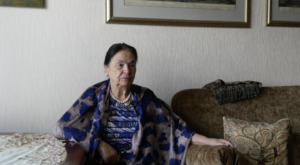 Marina Tarkovskaya (sister, author)
Andrei Tarkovsky's sister Marina Tarkovskaya has written a number of books about her brother, including About Andreï Tarkovsky (Progress Publishers, Moscow, 1990).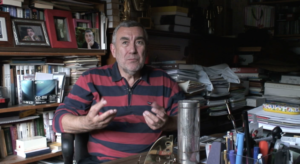 Evgeny Tsymbal (assistant director)
Filmmaker Tsymbal served as assistant director on all three Stalker shoots, and wrote a book about the film's extraordinarily difficult production. Discussing the intellectual culture of Tarkovsky's circles in Moscow, and also Tarkovsky's own interest in the paranormal, Tsymbal explained, 'All of Tarkovsky's generation were looking for a miracle.'
The interview with Lanterna Magicka took place in Moscow on 5th September 2012.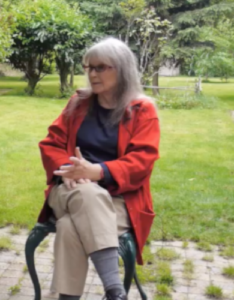 Marina Vlady (actor)
Vlady talks of Tarkovsky's final days in Paris, where her then husband – a leading oncologist – treated Tarkovsky for cancer. She believes the treatment extended Tarkovsky's life by a year.
The interview with Lanterna Magicka took place in Paris on 2nd June 2014.
Please click here for a full transcription of the interview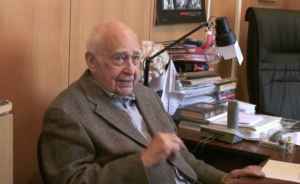 Vadim Yusov (cinematographer)
Yusov was Tarkovsky's cinematographer on The Steamroller and the Violin, Ivan's Childhood, Andrei Rublev and Solaris. Yusov, giving one of his last interviews before his untimely death, discusses his work with Tarkovsky, their years at VGIK, the artistic and political culture of Moscow in the 60s, the Cold War and their experiences in the Great Patriotic War.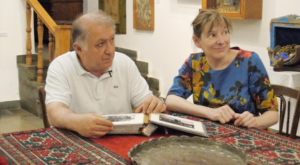 Zaven Zargysan (head of Parajanov museum)
Zargysan discusses Tarkovsky's friendship with the Armenian-Georgian filmmaker Sergei Parajanov, whom he regarded as 'a genius in everything'. When Parajanov was jailed in 1973, Tarkovsky actively campaigned to get his friend released. Parajanov was finally released in 1977.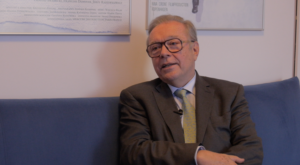 Krzysztof Zanussi (filmmaker)
A leading figure in the Polish Cinema of Moral Concern (whose other members included Agnieszka Holland and Krzysztof Kieślowski), Zanussi got to know Tarkovsky in the 1970s and accompanied him on his 1983 tour of the USA, when he was invited to the Telluride Film Festival.